3D design, Energy-saving
3D-CAD designing
We draw the drawings with not only 2D design but 3D design.

The advantage of 3D-CAD designing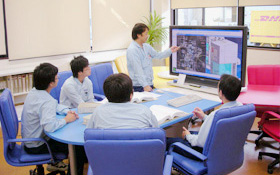 We can refer to a three-dimensional image before assembling the machine.
Thanks to 3D drawing we can see the machine from any angle before assembling and preliminarily and easily detect the collision and interference.
Making design more certain and accurate.
We can detect the interference between the parts unit which has difficult judgment in the ground plan and reduce the loss caused by mis-design.
Because all parts include bolt and/or threaded hole are designed in 3D, a lot of mistakes of mismatch size were decreased.
Energy-saving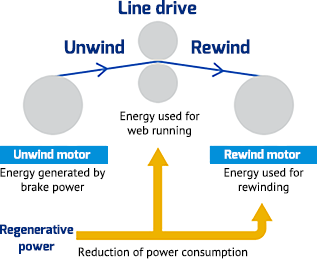 Energy saving effect by reducing power consumption.
Unwind/rewind drive of some machine such as RSS-108VI and/or HSW-12XN are motor drive and using unwind motor as brake.
When unwind motor performs as brake, the regenerative power (brakes power) that is generated by unwind motor can be used as energy for line drive and rewind drive.
Power consumption can be greatly reduced.
* Power consumption may not be reduced in the case of the low tension running because regenerative power does not occur.
* This is subject to our standard design, may not be the case of modification.
* Power supply capacity can not be reduced.